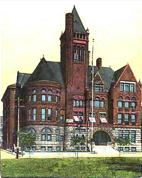 Become an Allegheny City Society Member
Reduced rates on tours, lectures, seminars and special events.
Free subscription to the Allegheny City Society's quarterly journal, "Reporter Dispatch."
Docent and volunteer opportunities.
Invitation to Annual Meetings and Award Ceremonies.
Allegheny City, now Pittsburgh's North Side, was a separate city from 1840 to 1907. Allegheny City was annexed by the City of Pittsburgh in 1907.
Allegheny City was home to many people of renown: General Robinson, Mary Cassatt, Martha Graham, Mary Roberts Rinehart, Henry Phipps, H.J. Heinz, Andrew Carnegie, Henry O Tanner, Gertrude Stein, Colonel James Anderson, William Thaw, Jr., Lois Weber, Thomas Meighan, William Powell and William Penn Snyder.
Allegheny City landmarks included The Market House, Exposition Park, The Byers Lyons House, Carnegie Library of Allegheny City, as well as Calvary Methodist Church, St. Peter's Roman Catholic Church, Allegheny Unitarian Universalist, St. Anthony's Chapel (home of the largest collection of saint's relics outside of the Vatican) and many other notable houses of worship.