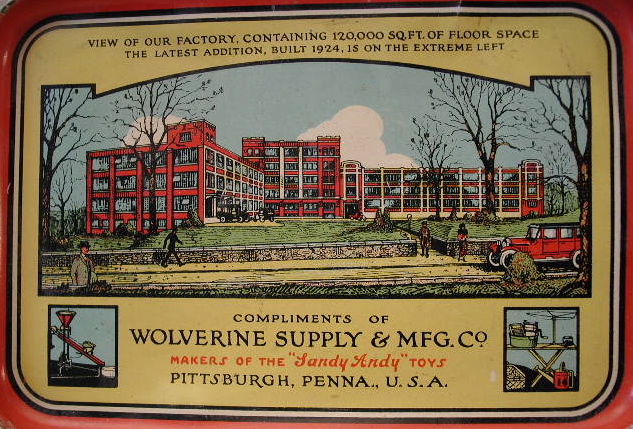 The "Wolverine Supply & Mfg. Co." was founded in Pittsburgh in 1903, by Benjamin F. Bain. Incorporated as a company in 1906, Wolverine designed and manufactured household utensils and broom holders, as well as the tools and dies to make them. Their original headquarters was in the Phipps Power Building near Stanwix Street & Duquesne Boulevard in downtown Pittsburgh. Here Benjamin Bain discovered the opportunity to get into the toy manufacturing business. In 1913, needing more room for Wolverine, Bain purchased the property on Fontella Street between Page and Western Avenues in Manchester. He constructed a large 3-story toy factory on the site, and lived on the property as well.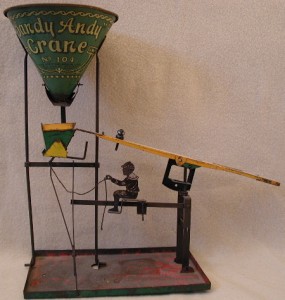 Here he expanded on his line of sturdy sand-operated mechanical tin (or pressed steel) construction-type boy's toys that would eventually be sold in major department and toy stores across the United States. The manufacture of these pressed steel mechanical toys provided employment for many Northsiders over the years, with the work force at Wolverine swelling to over 450 around September each year, as they geared up for the holiday season. Wolverine's original toys were all sand-operated, followed by the addition of marble power (both aggie & steel balls.) Eventually he added vehicles such as trains, streetcars, boats, trucks and cars that were all powered by a unique patented spring powered motor. Within a few years Wolverine developed various tin game boards, both manual and mechanical, as well as branching out into "Girl Toys" like stoves, refrigerators, sinks, cupboards, washing machines and furniture. These toys trace the history of vehicle and appliance design over the years.
The toy factory was enlarged twice over the years, and the building still stands. Remnants of the proud "Wolverine Supply & Mfg. Co." name and the large word "TOYS" are still visible on the building.
By the early 1950's Bain's company developed educational toys, and in 1962 changed their name to "Wolverine Toy Company." Spang Industries of Butler, PA purchased Wolverine in 1968, and in 1971 moved all operations to Booneville, Arkansas. In 1986 the name of this line of still-popular toys was changed to "Today's Kids."