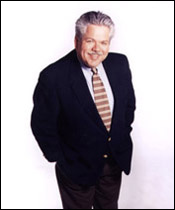 Rick wasn't born in the North Side, didn't grow up here, and doesn't live here. In fact, until last year, he thought that the North Side was just one of those things that wasn't there anymore. So he decided to spend a week or two documenting the memories of some of the old-timers who remembered it.
Well, it took more than a week, a lot more than a week. And it was more than old-timers that he discovered — a lot more. Clearly, he was pleasantly surprised at what he found. So much so that he created an entire video production to share his findings. We were thrilled at the results — thrilled to see our North Side neighborhoods presented to the City, and the world, as a great place to live, work, play, and visit. We always knew that, but Rick was able to dig up the dirt in Old Allegheny, finding our treasures: Gus the icey ball man, Mary Wohleber, the view from the heights, and much more.
Rick's productions are more than a "fly-on-the-wall" eavesdropping of events, they are more like company dropping in to spend some time to visit and catch up on what's happening around town. On camera, his subjects appear to be having a good time because they are having a good time. His enthusiasm is contagious and brings out the best from the people he interviews.
Rick has managed, in a mere one-hour of tape, to do more for the image of the North Side than any of us could possibly imagine. Our friends from the suburbs have stopped asking us about the worst time for auto thefts and have begun inquiring about the best hours to visit the National Aviary. Topics of conversation have changed from jailbirds to tropical birds. From "Aren't you afraid?" to "Aren't you proud?" From "How could you possibly live there?" to "Is it possible for us to live there?" And we are enjoying every single minute of it.