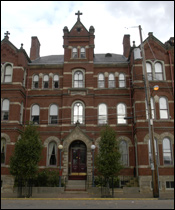 Ed worked for 27 years with Ketchum Communications, an international advertising and public relations firm and retired as Vice Chairman and Chief Financial Officer in 1997. He must have had some time on his hands before he left Ketchum because in 1986 he and Mary Ann made their first investment in the North Side by transforming St. Mary's Church into The Priory and Grand Hall.
Mary Ann's attention to detail in the décor, antiques, and artwork led to her being named Entrepreneur of the Year by the YWCA for her effort in founding The Priory. The success of this business, now owned by their son, John, inspired them to move to East Allegheny five years ago.
For the past year and a half, Ed has served on the East Allegheny Community council and in October of last year, Ed and Mary Ann opened Priory Fine Pastries, the first new bakery in Pittsburgh in 40 years.
I guess it's obvious that the Society totally managed to ignore the achievement of rescuing a church from demolition, but the minute a bakery opens, bam, we're there with a prestigious award. It just shows you the importance of Almond Torte cakes to the History and Fabric of the North Side.