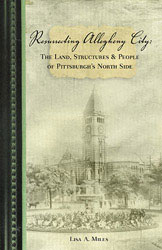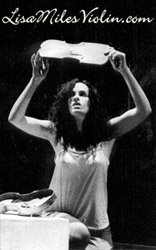 Lisa Miles is a professional creative artist–musician and writer. She received a B. A. in English from Youngstown State University, where she also was an Applied Music minor. Lisa has been recognized by Cambridge University's Who's Who as a leader in the Creative Arts, and as an independent scholar she published her second book in 2007– Resurrecting Allegheny City: The Land, Structures & People of Pittsburgh's North Side. It was sponsored by a substantial grant from the PA Historical & Museum Commission and the Buhl Foundation. Selling out after less than four weeks, it was a regional Best-Seller with a Third Printing now on the horizon.
In 2008, Lisa supported this book with readings, discussions and educational programming at state historical societies, libraries and various community organizations. Included were a series of five in Butler County in the Fall, and a series of workshops funded by the Buhl Foundation for at-risk youth, looking at the intersections of history and current-day civic engagement. The latter had a major community component– a culminating Showcase at renowned telescope maker John Brashear's old house and factory. Lisa's work here, and on her books, was spotlighted in an hour-long TV interview in December, 2008 on the PA Cable Channel's "PA Books" program.
Lisa's main work since 1987 has been as violinist and conceptual artist who writes original music, often in collaboration with film, theatre, visual and movement artists. In 2008, she continued to play at a variety of venues ranging from the downtown Pittsburgh Cultural District to art openings to accompanying yoga workshops with original music on violin and mandolin
. As a Teaching Artist, she has presented professional development workshops and has taught extensively independently and through various art centers–holding Music Creativity workshops that incorporate a cross-disciplinary arts approach.
Lisa has played professionally with numerous regional symphonies since 1985, including the Youngstown, Westmoreland, Butler County and McKeesport Symphonies, as well as having played major avant-garde works with the Carnegie Mellon Philharmonic at New York's Carnegie Hall, Boston's Symphony Hall and Kennedy Center in Washington D.C.