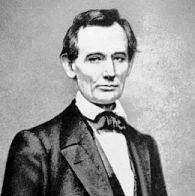 In commemoration of the 150th Anniversary of Lincoln's visit to Allegheny and Pittsburgh, the ALLEGHENY CITY SOCIETY has planned a program to follow the route of Lincoln from his arrival in Allegheny on February 14th at the station on Federal Street to his departure from the same station on the following day. The was the only time President Lincoln visited Allegheny and Pittsburgh. Both cities had been very supportive of his election in November of 1860.
Lincoln's Birthday Saturday February 12, 2011

The Festivities will include a BUS TOUR of the sites Lincoln visited as well as several Lincoln memorial locations in the area. One tour will begin at 10:00AM, followed by LUNCH and the PROGRAM at Calvary Methodist Church. The second tour will meet at 12:00 Noon for LUNCH and the PROGRAM, and experience the tour from 2:00PM until 4:00PM.
The PROGRAM features prominent Lincoln scholar GARY AUGUSTINE, who will speak on the important political relationship between Lincoln and Allegheny County.
Cost of the event is $40.
For reservations call Amelia at 412-766-5670, or telegraph via meliagehron@comcast.net.
Link to Post Gazette article.