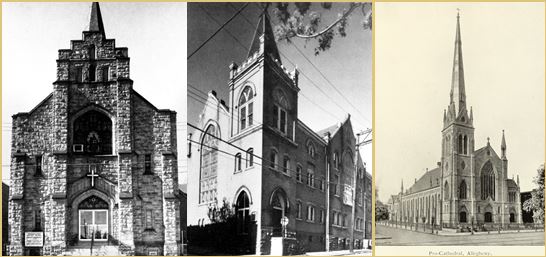 Allegheny City Society Church Walking Tour
November 12, 2017 – 1:00
Join us on Sunday, November 12th as we tour just a few of the many churches of Allegheny City.
We will meet at the New Hazlett theater at 1:00 PM, where the Carnegie Music Hall at one time provided space for many religious groups. You may be surprised to know that early meetings of the Jehovah's Witnesses and miracle sessions featuring Katherine Kuhlman were held here over the years.
We will visit the Allegheny Center Alliance Church, once the site of the 1st United Presbyterian congregation, and later the Christ Episcopal Church.
We will move to the Community House Church, once a Swedenborgian congregation, now home to the successor of the 1st United Presbyterians.
On to the Brown Chapel AME Church with its rich history and robust current program (which will probably be rather active when we arrive, so we may not be able to go inside!)
From there, we will visit the Metropolitan Baptist Church on Sampsonia Street, after which we will walk to the Methodist Church on North Avenue.
We'll need a break by then, so we will stop for refreshments (Cider! Cookies!) at the Allegheny Unitarian Universalist Church, and talk about their congregation.
Our final stop will be St. Peter's on West Ohio, but not before passing the former site of the Trinity Lutheran Church near the center of Allegheny. We should conclude by about 4:15.
This tour will require a good deal of walking, and we'll visit a few places that are not necessarily physically accessible to all. We only have room for 40 guests; and we ask for $5 in order to reserve a spot on the tour.
Please call us at 412-766-5670 to reserve your spot!